Productbeschrijving
De fotopuzzel met 600 stukjes valt op door zijn bijzondere vorm, namelijk die van een hart. Hierdoor is deze puzzel uitermate geschikt om uw liefde of genegenheid tegenover een bijzonder iemand te uiten. Maak eens een originele liefdesverklaring! Zoekt u nog naar een perfect idee voor een huwelijksaanzoek? Of zegt u gewoon maar weer eens hartelijk dank - Met onze hartpuzzel kan dat allemaal!
Een totaal nieuwe manier, om uw fotopuzzel te beleven en tegelijkertijd de perfecte bescherming voor elk puzzeldeeltje.
Verpakking
Onze puzzel lijst verpakkingen zijn van stevig en hoge kwaliteit materiaal gemaakt en hierdoor uitermate geschikt voor het vervoeren van puzzel lijsten. Van binnen zit de lijst in een lucht geveerde noppenfolie en van buiten wordt de lijst door dubbelwandig golfkarton tegen beschadigingen beschermd. Buiten hard, binnen zacht. Per slot van rekening dient uw bestelling de reis zonder schade te volbrengen.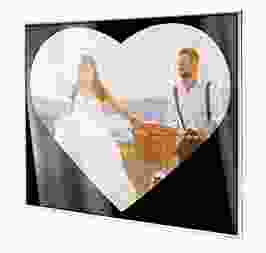 Maat van de puzzel lijst:
Profiel van de lijst:
Dikte van het glas:
Tips & ideeën
Gebruiksaanwijzing hartpuzzel lijst 600 stukjes
Hier vindt u de belangrijkste stappen, die u bij het inlijsten van de hartpuzzel met 600 stukjes helpen.
Stap 1
Schuift u de fotopuzzel op een stevige ondergrond en legt u de glasplaat boven op de fotopuzzel.
Stap 2
Draait u nu de ondergrond samen met de puzzel en de glasplaat om. Neemt u daarna de ondergrond weg, zodat de achterkant van de puzzel boven ligt.
Stap 3
Legt u de passe-partout om de puzzel, gelijk liggend met de glasplaat.
Stap 4
Legt u het inlegblad met de witte kant naar boven op de passe-partout.
Stap 5
Legt u de achterwand van de lijst met de bevestigingen naar boven- op de puzzel en dan voorzichtig de achterwand, de puzzel en de glasplaat in de lijst, die u alvast omgekeerd heeft neergelegd.
Stap 6
Draai de clips onder het profiel van de lijst totdat ze vast klikken.
Beoordelingen
De beoordelingen hieronder hebben alleen betrekking op het bestelde product en zijn eigenschappen. Alleen klanten, die het product hebben besteld, kunnen een beoordeling afgeven.
Veel gestelde vragen