Productbeschrijving
Indrukwekkende foto's hebben plaats nodig, véél plaats. Onze fotopuzzel met 2000 stukjes is op dit moment de grootste fotopuzzel op de markt, die u zelf met uw foto's en teksten kunt ontwerpen. Bijna 6000 cm² staan voor uw mooiste foto's ter beschikking. Voor alle duidelijkheid: Dit is meer dan negen A4 velletjes bij elkaar. Het maakt niet uit of het een cadeau gaat worden of dat u hem lekker voor u zelf bestelt - de fotopuzzel met 2000 stukjes zorgt altijd voor enorm lang puzzelplezier, zelfs voor ervaren puzzelaars, die een uitdaging zoeken. Een hele bijzondere puzzel voor hele bijzondere momenten.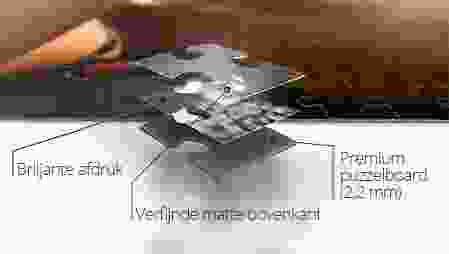 Leeftijdsadvies
Verpakking
De fotopuzzel wordt in losse stukjes geleverd. De puzzelstukjes zitten in een plastic zakje, dat zich in de puzzeldoos bevindt.
Maat van de doos:
Maat van de puzzelstukjes:
In verhouding:
Tips & ideeën
Aanbevolen resolutie
 De drukkwaliteit van uw fotopuzzel is afhankelijk van de resolutie van uw foto. Voor een fotopuzzel met 2000 stukjes raden wij een foto met een formaat van
6406 x 4819 pixels aan.
Belangrijk: Let u goed op, dat uw foto niet wazig en vooral niet onderbelicht is.
Strategie advies
U krijgt deze fotopuzzel verpakt in twee plastic zakken met ieder 1000 stukjes. Hierdoor kunt u zelf beslissen hoe moeilijk het leggen wordt. Of u legt eerste de ene helft en daarna de tweede en voegt de twee puzzelhelften na het leggen samen, of u gooit de inhoud van de twee zakken bij elkaar en legt dan de 2000 stukjes fotopuzzel in z'n geheel.
Bij zo'n grote puzzel is de belichting heel erg belangrijk. In de regel zorgt daglicht voor de beste belichting. Het is daarom beter, als u uw object of de groepsfoto buiten fotografeert.
Puzzel varianten
Kies uw fotopuzzel:
Puzzelbenodigdheden
Beoordelingen
De beoordelingen hieronder hebben alleen betrekking op het bestelde product en zijn eigenschappen. Alleen klanten, die het product hebben besteld, kunnen een beoordeling afgeven.
Veel gestelde vragen
Kan ik mijn fotopuzzel zowel horizontaal als ook verticaal bestellen?

U kunt het gewenste formaat zelf vastleggen aan de hand van de foto.

Hoe kan ik mijn gelegde fotopuzzel voorbereiden om hem bijvoorbeeld aan de wand te hangen?

U kunt uw fotopuzzel met onze Puzzel lijm vastplakken. Een nog beter alternatief is onze Puzzellijst waarmee u de fotopuzzel met meer stijl aan de wand kunt hangen.

Kan ik de status van mijn bestelling zien?

U krijgt per e-mail een bestelbevestiging. In deze bevestiging vindt u een button, waarmee u de actuele status van uw bestelling kunt controleren. Kijkt u even in uw spambox als de bevestiging niet binnen 15 minuten zichtbaar is.
Als u op de button in de bestelbevestiging klikt, komt u op uw persoonlijke statuspagina terecht. Daar vindt u alle informatie over uw bestelling, zoals de betalingsstatus, de voortgang in de productie enz. Zodra uw pakket de productie verlaat, verschijnt hier ook het UPS tracking nummer. Als u op het tracking nummer klikt, wordt u naar het UPS tracking systeem geleidt, waar u het pakket kunt volgen.
Ook in de verzendbevestiging vindt u een button, waarmee u het pakket kunt volgen.